Janan Upshaw

Agent

in Cypress, TX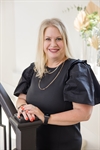 Expertise Types
Single Family Homes
I have lived in west Houston for over 30 cumulative years. I have a strong appreciation for Houston and all that it has to offer. My sphere of influence covers a wide range of people including childhood friends, fellow church members, oil field professionals, staffing, and all the support people and friends I have met along the way.
I have a wonderful family of 3. Ed works in the oil industry and our child, Ashlyn is a teenager attending Langham Creek High School. Ashlyn is currently trying to figure out what she wants to be when she grows up. It ranges from graduate of Cornell in forensic anthropology to being an exotic veterinarian. Considering she is not yet driving this all seems so far in the future but as Ed likes to point out it all will happen within the next 1200 days.
I am a strong supporter of Aragon Middle School, Langham Creek High School, Langham Creek's Theater program and the Lady Lobo's Volleyball/Athletic Program. Additionally, during the school's off season, Ashlyn keeps her skills sharp with club volleyball and I try not to miss a moment to support her.
Professionally, I am a results-focused professional with 20+ years in the work force. I began my career in Human Resource Management and transitioned to Real Estate, 4 years ago.
I started in Real Estate by working with a close friend as her assistant and began learning to ropes. Ed and I also started managing our own Vacation Rental properties in Gatlinburg TN in 2014. We have purchased, gutted and rehabilitated properties in the area and look forward to continuing this side of the business.
To sum me up, I am a hungry member of the NextHome Realty Center Team who can't wait to help you or a friend with their real estate needs. My primary areas of focus are Cypress and Northwest Houston neighborhoods (Cy-Fair ISD), where I have been raised and enjoy raising my daughter. My goal is to provide better customer service than I would expect to receive and that my clients walk away satisfied. The best accolade I could ever receive is for a client or friend to refer me to someone else!